Professional Web Design, Web Hosting and Advertising Services.


From conception and strategy to design and implementation, SLG Web Design builds and hosts premium websites for Small Businesses, Associations, Government, Political Campaigns and Fortune 500 companies.

We are a Website Design, Web Hosting, Domain Registrar and Web Marketing company under one umbrella!

Want a professional to build your website for you?
Do you want a design that's uniquely yours? Do you find the prospect of creating your own website too time-consuming or intimidating? We can help you! SLG Web Designs team of professional website designers and graphic artists, can design and create a website to your specifications, giving it a well-designed, professional look that will really make it stand out.
Get your own personalized website address and email.
Make it easy for customers to find you on the Web and build a professional image with your own personalized domain name (www.yourbusinessname.com) and email branded with the same address. If the name you want is already taken, our team of experts can suggest others that your customers will remember. If you've already got a domain name, we can transfer your registration to SLG Web Design for you or simply redirect traffic to your SLG Web Design site. Just give us a call at 866-374-9643 Ext: 524, and we'll handle everything.
Want to sell online?
SLG Web Design makes it easy for you to add a PayPal Shopping Cart to your website so you can ring up sales at your customers' convenience, 24 hours a day. Let your customers purchase multiple products and services from your site with a single payment. It's the most cost-effective way to conduct transactions for a number of products.
Bring new visitors to your website.
SLG Web Design offers powerful tools, including search engine submissions and advertising on Google, Yahoo and MSN. Expert consultants will take care of all your marketing optimization, driving highly-qualified leads and ready-to-buy customers to your site automatically, letting you focus on running your business.
Search Engines: Today's phonebooks aren't books at all, they are sites like Google, MSN & Yahoo! New technology, but old-school marketing prevails. In the olden days, if your business couldn't be found in the book, it didn't exist (in the all important consumers eyes). Today that is true as well. If someone "Googles" your business name or for your products and services and they don't find you, they will go to your competitor. If you don't exist online, eventually you won't exist at all.
---
Today having a website is as important and necessary as having a phone number.

A website enables your business to reach potential and current clients 24 hours a day, 365 days a year! Your site can educate, inform, generate new customers and revenue while you sleep.
Your website allows you to put your best foot forward in front of the world. Businesses and organizations of any size can (and should) have professional sites. A recent study showed that over 80% of consumers pre-qualify a business online by visiting their website before even visiting the business!
Websites are affordable and cost effective. Annually your cost of having a website may be less than the cost of a one-time print ad. The information on your site can save you time and money. For example, you can save time by reducing phone call inquiries such as "what are your business hours" and save money by reducing printed promotional literature.

Does your competition have a website?
If they do, you might want one too. If they don't, this is a perfect opportunity for you to differentiate your business from your competition.
SLG Web Design offers dynamic eye appealing websites backed with our level of service that you will not find anywhere else.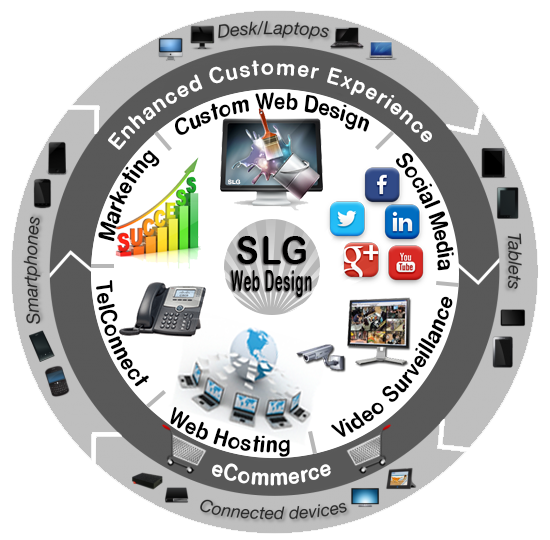 SLG Web Design was featured on GoSeniors Radio! - (Click Here)
To receive a Custom Business Proposal - Call Toll Free: 1-866-374-9643 Ext. 524
.